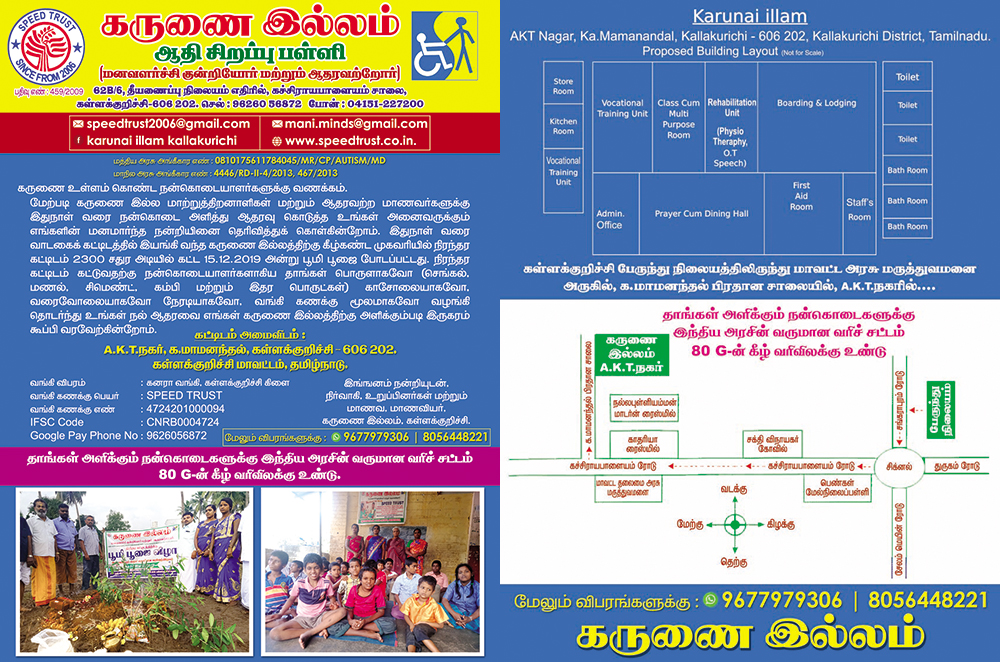 We are SPEED TRUST,i.e known as Social public Education and Economic Development Trust ,Kallakurichi is a Charitable Non-Profit Organization Running a Special Home for Mentally Retarded/Differently Abled at No.62 B/6.Kachirapalayam Road,Kallakurichi-606202, Kallakurichi District, Tamilnadu. with 41 Child adopted in the home and it is a State Government of Tamilnadu Project run by the SPEED TRUST under District Differently abled welfare office Kallakurichi District Tamilnadu and another one Residential Home at No.24 Puthanthur Main Road,Alathur, Kallakurichi-606202,Kallakurichi District, Tamilnadu with 100 students with School Drop-Outs, Street Child and Migrants students are adopted in our Home and we give the basic amenities, Free Food, cloth and Special Education,yoga,carate,vocational training to those drop-out child in the age group of 6-14 years and specially trained Successful students are Mainstreamed with Regular Schools to continue their education to up-liftment of living status. This is a project funded by the Sarva Shilksha Abiyan - Kallakurichi District and it is a State Government Project continuously running successfully more than 8 years from 2010 july 16th and every year nearly 100 children with rural poor School drop-out are benefitted by the Sarva Siksha Abhiyan-Tamilnadu.
In another way, for fulfilling the basic need and to educate the rural poor and mentally disabled children equal to private schools, we have been preparing to construct a permanent Special Home/school Building for 141 rural poor mentally disabled and school Drop-out child adoption in our Home with our public Donated Land at ka.Mamanandhal Road, Kallakurichi. We estimate the Construction of school building at the project cost of Rs.53 lacks. So, we are Pleased to donate even a Cement Bags or Bricks, or Iron Rods for Construction Purposes as a Donation and it may be by the Amount at any value by means of Cheque or direct payment in bank Account.
In case of India or International donations please send as a cheque by the name of SPEED TRUST, and send it to M/S.SPEED TRUST, No.33F North Street, Ka.Mamanandhal , Kallakurichi Post and Taluk, Pin:606202 Kallakurichi District,Tamilnadu,India.
In case of fund Transfer: Name of Bank: Indian Bank, A/c.Name : SPEED TRUST, A/c.No. 905822854,
IFS Code: IDIB000K132, Swift Code: IDIBINBBINT, FCRA No : 076100070.
Name of Bank and Branch Address: Indian Bank, No.52, Katchery Road, Kallakurichi Taluk and Post, Kallakurichi. Kallakurichi District, Tamilnadu, India.
In case of fund Transfer: Name of Bank: Canara Bank, A/c.Name : SPEED TRUST, A/c.No. 4724201000094,
IFS Code: CNRB0004724, Branch Name: Kallakurichi branch
For your donations, Income tax exemptions will be eligible under 80 G of Indian Income tax act.